When designing an exam it's important to consider the format and style of questions you would like to use. While some question types included in exam generation software are common like multiple choice, short answer, and true or false, they aren't all appropriate for every type of testing. Knowing which type of question to choose depending on your needs is the key to generating a great test and achieving your ideal results.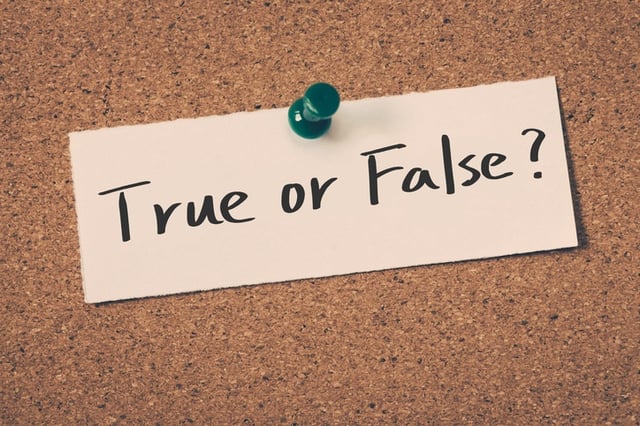 True or false style questions, also known as binary-choice items, can be used to test a students', employees', or potential employees' level of knowledge. Typically, true or false questions are designed to quiz the test taker on whether a statement is correct or incorrect. This is why crafting concise, clear, and non-contradictory true or false questions is extremely important.
Read on to discover when it's most appropriate to use true or false questions for your tests.
Use True or False Questions for Declarative Statements When You Create Randomized Exams
It's best to use true or false questions when you want to test declarative statements. Declarative statements create a forced-choice situation, because the answers are either 'yes or no', 'correct or incorrect', or 'right or wrong'. An example of a declarative true of false question could be:
True or False? Dogs are canines.
This true of false statement declares something and the test taker is forced to choose whether it is right or wrong. If you want to ask questions that are complicated and may have more than one right answer, using true or false questions is not ideal. Instead, you can opt for using check box or multiple choice question formats when you create randomized exams.
Use True or False Questions to Test All Levels of Ability When You Use Exam Generation Software
Although the example used above is basic, true or false questions can be used to test all levels of cognitive ability and aptitude. For example, true or false questions can be used at the grade school level, but can also be used at the college or university level. In addition, true or false questions can be used when testing an employee's knowledge or during training.
It's important to remember that even though you can test advanced subject matter using true or false questions, you still need to make the questions clear and concise. While designing tests with exam generation software, keep in mind that using double negatives, complex sentences, or sentences that have more than one main idea may confuse the test taker.
Use True or False Questions When the Testing Time Period is Short
If you are conducting an exam, survey, or test within a limited time period, true or false questions are a great option. Perhaps you only have a 60-minute block of time to administer a test to your students, or your employee's schedules are busy and you don't want to take too much time away from their workplace responsibilities. True or false questions only have two possible answers and a well-designed true or false question is often short and concise. Because of this, test takers should be able to comprehend the questions and decisively pick an answer in a fairly short amount of time.
Are you trying to choose the right multiple choice question software for your organization?
Contact Test Shop today get started!