In the interest of professional development, businesses often use periodic reviews to relay praise and criticism to employees. While this kind of review does offer value, it can also prove to be of limited effectiveness if a variety of perspectives are not solicited. In the average organization, a given employee will interact with many people on a regular basis. Polling some of these people to produce what is called a "360 degree review" can help a manager get a more complete picture of the contributions, strengths, and weaknesses of a given employee, and use it to help that employee develop going forward.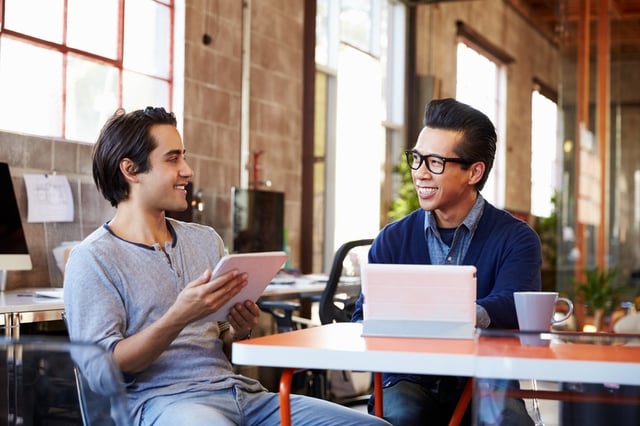 By using a test generator program, it is possible for a business to streamline the process of collecting many opinions when generating 360 degree reviews.
Here are a few key points to keep in mind when creating your assessments.
1: Write Specific Questions for Use in the Test Generator Program
A 360 degree review is meant to paint a picture of an employee's performance in the workplace, and the questions you ask of respondents should reflect that goal.
For best results, write questions or prompts that are specific, and address particular qualities you wish to evaluate. As an example, something like "[SUBJECT] communicates criticism effectively" would be a good prompt. These will allow you to target your evaluation to qualities you prize, and will provide a helpful structure for employees who are completing the evaluation.
If you wish to include both technical and interpersonal skills in your evaluations, be sure to carefully consider the employees you distribute the evaluation to. Some respondents might be better suited to answering one kind of question about a colleague than another.
2: Choose Effective Question Types Within the Test Generator Software
A test generator program includes many options for types of questions, and it's important to pick the right ones for the evaluation you wish to administer.
The two types of question that are most beneficial to a 360 degree review are "Likert" and "Essay" questions. Likert questions allow administrators to assign a point value to multiple selectable answers, and essay questions allow for employees to use their own words to respond to a question.
Each offers a different kind of value. Likert questions make it simpler to quantify answers and compare one employee's results to another (if desired). They are also much quicker to evaluate. Essay questions take more time to review, and are entirely qualitative, but can provide greater insight. Choose between these as well as other question types according to your needs.
3: Provide Clear Instructions to Respondents
For best results, it is important that respondents answering a 360 degree review understand the purpose of the process. They need to know that the evaluation is not to air grievances or bolster the image of a workplace friend. Instead, it is meant to assist colleagues in determining what they do well and what they don't, and how best to proceed from that point.
When using test generator software to create your 360 degree reviews, include clear instructions outlining the goal of the exercise at the beginning of the survey. You may even consider adding specific instructions for how to answer any questions you feel might benefit from further clarification. A 360 degree review is an investment of time and energy on the part of several people, and specifying your intentions for administering the test will help you collect results that will be of genuine benefit to the party under review.
By providing clear instructions, asking specific questions, and making use of the right types of questions available in Test Generator, you can administer effective and insightful 360 degree reviews.
Do you want an easy test generator to help create tests and reviews?
Contact Test Shop to learn more!