When running a training program, you may find it useful to use a learning management system application, or LMS, to help keep things operating smoothly. Among other things, these apps can help you manage training programs and classes, organize class resources, and maintain calendars and enrollment lists.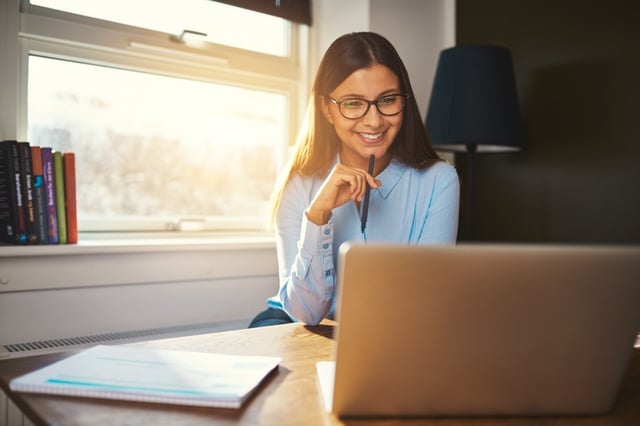 Test Generator includes "Shareable Content Object Reference Model" (SCORM) capability, which means you can access the tests you create through an LMS program of your choosing. Taking advantage of this feature will allow you to run your training programs, classes, and tests through a system that provides the management features you need, while still letting you create great exams with test generation software.
Here are a few LMS platforms you might consider using.
1. Absorb LMS Is an Attractive Complement to Test Builder Software
If you want to use an LMS app that looks good and packs in some great features, Absorb LMS is a great choice. It offers clean menus, desktop and mobile applications, and a variety of features for administrators to integrate into their programs. For example, you could offer a contest to users, making entry into the contest conditional on completing certain actions within the LMS.
Absorb's support for SCORM tests means it's easy to import exams into the software. You can even automatically assign your tests to users within your LMS who fall into certain categories, like those who are enrolled in a particular class, or who have your corporate email address. This is a helpful way for you to streamline the assignment process, and make sure the right users are administered the right tests.
2. Moodle LMS Is a Popular, Free LMS Choice Worth Considering
For those administrators who want an affordable LMS to go with their test builder software, Moodle is one of the best options available. Over 73,000 educational and training sites around the world use Moodle for administration purposes, and the open source nature of the platform has led to many plugins being developed to extend and customize the platform to suit particular needs.
Moodle is rather plain, and doesn't have the same intuitive navigation that you can find in Absorb and other paid LMS programs. Still, it works well with exams created with test builder software, and its popularity and extensive documentation are also important advantages it offers.
3. Grovo Is a Mid-Priced LMS You Can Integrate With Your Test Generator Program
Administrators looking for something priced between the two options above might like to take a look at Grovo. Its design is clean, and easy to navigate. It also integrates well with SCORM, allowing you to import the exams you create with your test generator program without trouble.
What makes Grovo a little different is that it is built around using "micro-learning" to teach employees a little bit at a time, with the goal of improving retention and confidence. The various tools it includes are built around quickly creating and assigning fun training programs to users. It also includes tracking functionality to help monitor progress. If you like the idea of using the tests you generate towards that purpose, consider choosing Grovo for your LMS platform.
Adopting one of the LMS options from above will help you integrate the tests you create into a system that promotes easy management of all aspects of a training program. Though they share many similarities, comparing features and pricing will let you arrive at the option that is right for your needs.
Do you want to use a random test generator as part of your training program?
Visit Test Shop for more information!